MEMPROTEC Inc was founded in 2005, the owner M. Denis Côté
& key personnel cumulate more than 50 years of experience in membrane filtration technologies.
MEMPROTEC manufactures concentration & filtration equipments using microfiltration, ultrafiltration, nanofiltration and reverse osmosis membrane elements of various configurations.
MEMPROTEC systems are used for water desalination, brackish water filtration & water recuperation and reuse in municipal, industrial and agricultural markets. Our enterprise also designs equipments for filtration and concentration of fruit juices, vegetable extracts, maple sap and other non conventional filtration or concentration processes.
MEMPROTEC SUPORTS ITS CLIENT'S NEEDS
BY DRAWING UPON ITS EXTENSIVE KNOWLEDGE & EXPERIENCE:
A well-known innovative capability:
The research & developpment efforts of MEMPROTEC has lead to new pump designs and implementation of new recirculation technologies.
An unequalled know-how:
MEMPROTEC has a wealth of knowledge to offer to his clients, whatever the needs – hydraulic or mechanical, chemical or biological, membrane or other technologies.
Experienced technical support:
MEMPROTEC's commitment to its clients is continuous: from design to fabrication, from installation to commissioning. MEMPROTEC's technical teams support the client with "hands on" operational assistance, technical information and thorough operator training sessions.
Modern project management working methods:
Faced with more stringent and demanding regulations, equipment performance and reliability are the main concerns of municipalities and companies; MEMPROTEC products exceed industry standards in performance and reliability since they are designed and fabricated to respect the most stringent market requirements. Beyond functional requirements, MEMPROTEC is fully-dedicated to environmental protection. We take great pride in designing and manufacturing quality products of unmatched durability and simplicity.

THE MISSION
Develop innovative solutions that enable saving of resources for the treatment of drinking water, salt water and industrial process water. Solutions for the concentration of liquids like maple sap, juices and extracts of fruits and vegetables. Develop applied solutions for membrane filtration and concentration using the best available technologies such as reverse osmosis, nanofiltration, ultrafiltration and microfiltration.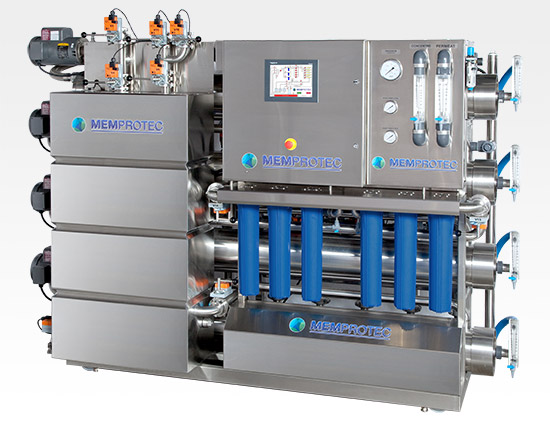 INTELLIGENT AUTOMATION
MEMPROTEC offers on all its concentrators and membrane filtration systems for commercial or industrial food grade application, the latest and most advanced automated operation management system.
This system manages all parameters of the operation in a closed-circuit or by remote web access. Information such as tank levels and the position of the valves, the brix of concentrate, permeate conductivity, flow rates of concentrate and permeate, system pressure, temperature, and efficiency are controlled by the system and recorded to maximize the performance of the equipment. All this data allows for a fully automated start up without human intervention. The operator is notified of any changes or problems by alarm control.
This option is of unprecedented simplicity and reliability